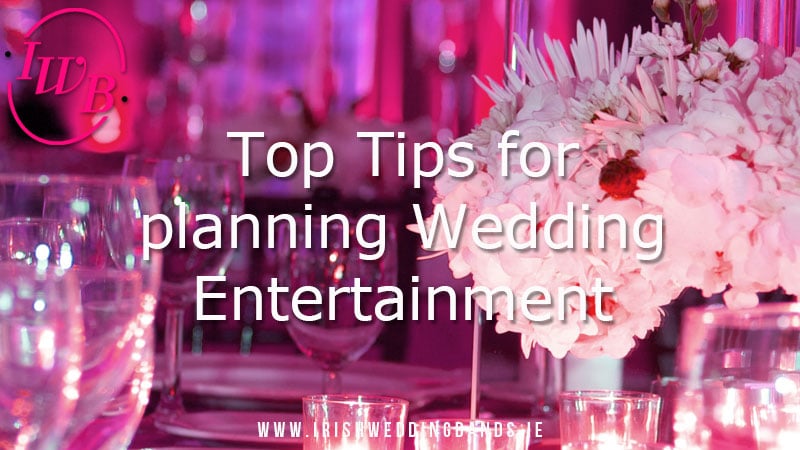 Booking your wedding band/entertainment is a very exciting task to undertake in the lead up to your big day. However, unless you work in the entertainment or event management industry, this could be the first time, and possibly the only time you'll hire a band! Unknown territory can be daunting for the best of us, so we've asked our best Wedding Band experts here at Irish Wedding Bands to put together a comprehensive list of the Top 5 Things to consider when booking your wedding entertainment, so that your big night, will go down with a bang!
1) Book early
No one wants to have to resort to their second, third, or even fourth choice when it comes to their wedding entertainment.  It's so important to get in there and book your band/DJ as early as you can. (FYI, the most popular and sought after wedding bands are often booked up to 18 months in advance!) It's also a well known fact that booking early can help you bag a few bargains, and who doesn't love a bargain?!
2) Style of Music
Okay, so this one may seem obvious – but hear me out …
It is so important to pick a music style that both you and your fiancé like. But, on top of this, you'll want to consider the age range and taste of your guests when choosing a band style.
Just because you and your partner are die-hard rock fans, doesn't mean all your guests will be too!
My advice – Look for a band who not only have a large repertoire, but who are flexible too. Have a look at their set lists, online reviews and youtube videos ask about specific song choices in advance.. There is nothing worse than not doing your research and getting something completely different to what you imagined on the day. And most importantly, ask your booking agent! It's their job to find the perfect match for you and your wedding, and its what they do best!
3) Keep in mind your timings
"Nothing is certain except death and taxes." and weddings not running  to time – that's a fact!
So when you're organizing your entertainment try to be realistic and practical in your approach.
The drinks reception is a great time to kick-start some entertainment as with all the photos and formalities that go along with it, you want to have something to keep your guests from thinking about their rumbling tummies when things take a little longer than expected!
Think anything from a string quartet to Roaming wedding bands, which always go down well, or if you're looking for something a little more alternative you could try a Digital Fire Art Performer to really add the wow-factor to your reception!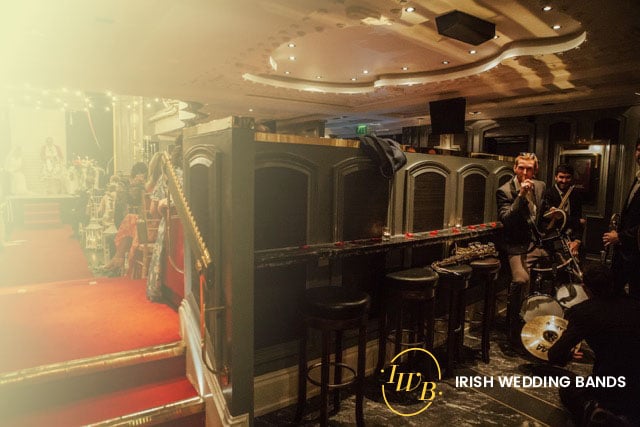 4) Trust your band
Okay, so this is a big one! We here at IWB always encourage couples to have a little faith in their band when choosing a playlist. Of course, every couple wants a Wedding that is personal and unique to them, but its important to remember that these bands have numerous weddings under their belt and and quite often, their suggestions  and recommendations come from experience!
These performers are all incredibly professional and they know what will keep the dance floor full and hopping all night! So when picking your playlist, we suggest highlighting a few songs and genres that you must have, and letting the band blend them into a playlist that's a proven crowd pleaser.
5) Venue restrictions & curfews
Curfew. It's a word we've all never really associated with good things. And for good reason! But unfortunately, when it comes to booking your wedding venue and band, it's a rule we all have to adhere to! (Boooo)
However, with a little planning and coordination it's easy to overcome any potential issues, before they arise!
Be sure to have a set length confirmed with your band or DJ and communicate the restrictions with them too, e.g  sound limiters and noise curfews.
If the words "noise curfew" sends shivers down your spine, don't worry, because there is a solution – Silent Disco Headphones! No one wants to be told to dial it back on their wedding night, so silent disco allows you to keep the party going as only those wearing the headphones can hear the music. Believe me, if your circle of   friends really know how to have a good time, they will definitely appreciate a silent disco as late-night entertainment.