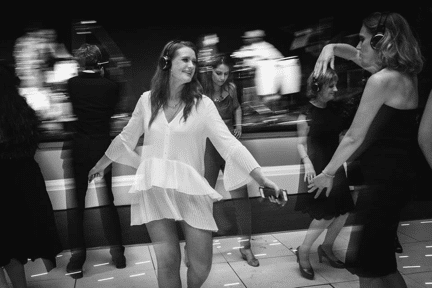 Five Reasons to have Silent Disco at your Wedding Party
This innovative DJ Disco option is a fantastic choice for anyone looking to add that extra bit of flair to their special day. Not only are you inviting something original to your reception, but you're also adding a bunch of enjoyment – worry free!
Still not convinced? Check out our top 5 reasons why you need Silent Headphone Disco at your wedding.
Make a Statement
Statement dress? Yes! Now how about statement entertainment? Absolutely!
Imagine being surrounded by hundreds of people all dancing and singing, but apparently to no music?
Bizarre, alternative and even slightly outrageous – silent headphone disco is one of the most exciting wedding party experiences to emerge in years , and its guaranteed to have your guests raving about your special night long after the party is over.
What noise curfew?
Picture this, your wedding party is in full swing, everyone is dancing  and having a great time. Then boom. "Time to kill the music guys"
No one wants to be told to dial it back on their wedding night, so silent disco allows you to keep the party going as only those wearing the headphones can hear the music.
Noise curfew worries =  a thing of the past.
Always a crowd pleaser!
It's a wedding, so naturally some guests want to sing and dance and other want to chill at the bar and have a catch up. Silent disco effortlessly caters to both. If dancing all night isn't your thing, you won't be forced to endure hours of thumping music. If it's a bit of peace and quiet you're after, simply take off the headphones. Ready for another go on the dance floor? Just throw them back on and you're ready to go!
Bring the whole family together with Five Reasons to have Silent Disco at your Wedding Party
What better way to bring two families together than dancing like loons into the early morning? Young or old, everyone loves a good boogy, and with 2 channels to choose from you can easily cater to all ages and varying tastes.
Location
The biggest advantage of Silent Disco is that you can take it virtually anywhere! There's no noise pollution as no music is being transmitted through speakers. So from function rooms to forests and hotels to marquees, a silent disco will bring your dream venue to life!