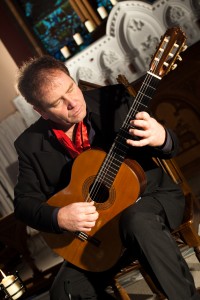 Classical guitarist Pat Coldrick is perfect for all receptions, over dinner or even a concert style recital. One guitarist with a very suitable repertoire, but at times sounds like a trio performing. This act is simply class and performs to a "world class standard". Pats performance brings sophistication and style to an evening's entertainment. An Irish performer to be extremely proud of, it's rare that they come as talented as this. Something extraordinary and perhaps a little different for your
event.
Pat Coldrick hails from Howth, Co. Dublin and has been playing and studying Classical guitar since he was 12 years of age and has worked with many of the top professional acts in the Country. His session work and classical appearances have earned him a reputation of being one of the finest and most versatile guitarists in Ireland. In the past he has achieved top marks in Feis Ceoil Awards, and as well as his touring performances, he has appeared on National Radio and T.V.
Pat continued his musical studies at the college of music in Dublin with John Feely and has also studied with world renowned guitarists "David Russell" and "Gabriel Esterellas". Pat has achieved acclaim for his unique sensitive and
expressive style in his playing and with a solid technique has a full command of the instrument. Pat has played at many festivals throughout the country and continues to play at corporate and private functions where his music provides excellent ambience for any occasion.
………………………………………………………
"His recital was as refreshing an evening's music as I had in months, he brings
freshness and immediacy to what he plays" The Irish Times

"A Maestro of the Classical Guitar" Paulo Tullio

"His classical guitar recitals and session work has earned him a reputation of being
one of the finest and most versatile guitarists in this country"
The Meath Chronicle

"The music played was sensational, and created a wonderful atmosphere, which
was enjoyed by all. We would be more than happy to recommend Pat Coldrick for
future events.
Kevin & Dawn Farley, Farley Catering, Russborough, Blessington, Co. Wicklow.
………………………………………………….
Just some of the many events and locations were pat has performed include:
Castle Leslie Monaghan,
The Four Seasons Hotel Dublin
Ritz Carlton Hotel Co Wicklow
Taste of Dublin Festival,
Kilkenny Arts Festival,
Russborough House Wicklow,
Omagh Arts Festival,
St. Annes Church Dawson Street Dublin 2,
Aer Lingus Corporate Event