After Dinner Wedding Entertainment Ideas
Choosing the right after-dinner entertainment for your big day is crucial for it will set the tone as to what lies ahead. The act you book to perform for you and your honored guests must appeal to everyone attending your special day and should reflect well on what the day has brought so far.
Finding the ideal performers following your wedding dinner may prove a little more difficult than initially thought. The act should be subtle enough to allow for your family and friends to digest, yet should be lively enough to not bring everyone to sleep.
Where do you start you ask? And where do you find interesting and sensational entertainers who'll fit in beautifully with the rest of the day and the evening to come. Allow for our team to assist you and guide you through all the talented musicians and alternative acts we have currently on our roster. You won't be disappointed and we will be glad to be of help!
Sure just simply call Mark or Tania on +3531-201-3660 or email us with your enquiry on [email protected]. We'll promise you amazing after-dinner entertainment that will give you exactly what you hope for at your once-in-a-lifetime party. And let us also assure a stress-free booking process and reliable performers!
Here but a few of our fantastic Wedding Acts suitable for the "in-between"
(scroll to the bottom of this blog for video examples of the various acts mentioned)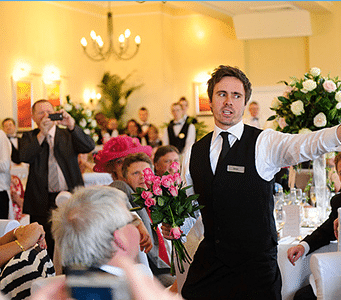 Our professional artists are versatile and smartly blend in their wide repertoire of fascinating illusions, songs, and rehearsed dances with an element of originality and also fun.
Their shows differ from many Wedding Bands, DJs, and performers for hire in Ireland as they endeavour to deliver a gig suited to YOU and YOUR family and friends, rather than providing you with a show performed at every other wedding too. This freshness enables the acts to entertain people of all ages and backgrounds with an infusion of imagination and creativity.
Offer verve and excitement to your loved ones and make your wedding a celebration one will remember with a smile!
After Dinner Entertainment on your Special Day
We're looking forward to hearing from you! +353-1-201-3660