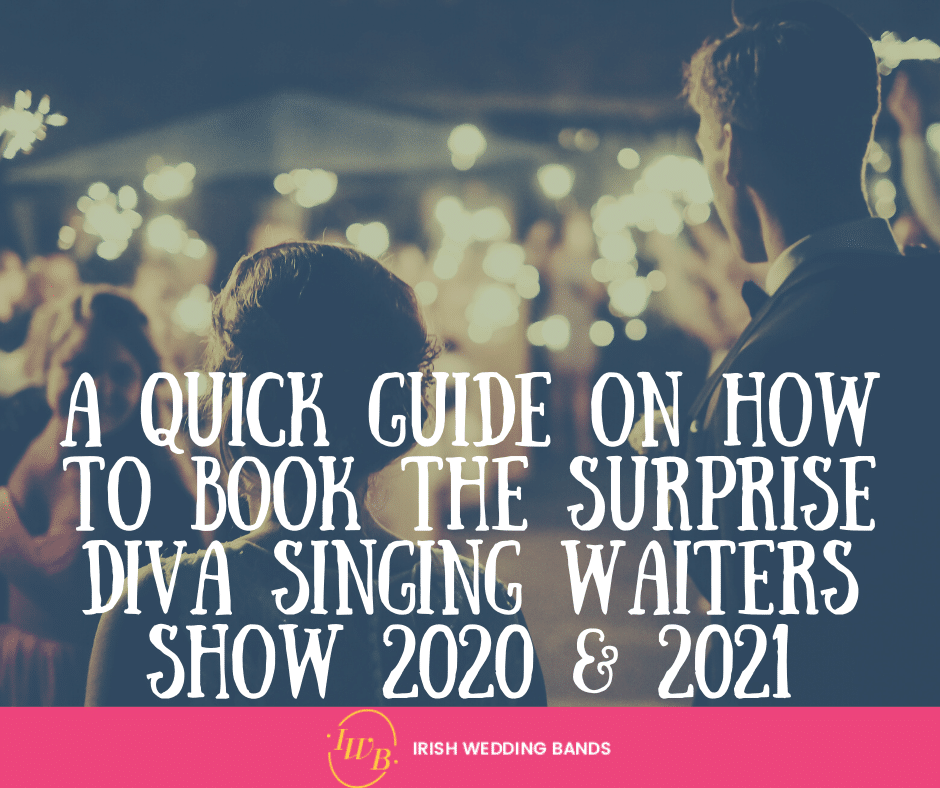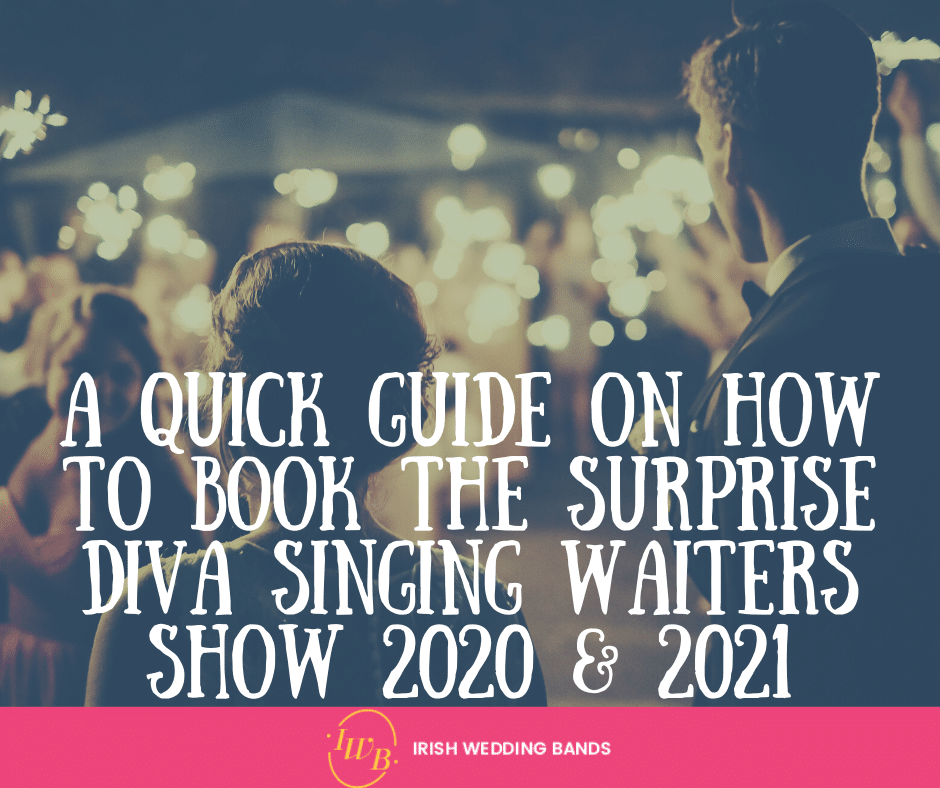 The Diva Singing Waiters are taking the wedding industry by storm, giving your guests the ultimate Surprise performance to blow your guests away.
These Singing Divas are the perfect Alternative entertainment idea for weddings as they have the most impressive sound and tones that impact your guests with such high energy making it the most memorable experience for years to come. The possibilities with the Diva Waiters Show are endless, our sassy soul Divas can take on any song, any genre, any time. All our Diva waiters stem from the Dublin gospel Choir and sing with Pure Soul. The show comes in different formats with anything line up wise from a 2pc, 3 pc, or 4pc Divas on stage to perform for your guests with flawless harmonies and a lot of Sassy & Fun Attitude.
For more info on the Diva Singing Waiters (or any other Wedding Entertainment Act) just give us a call on 012013660 – We are happy to help!
This powerful undercover Singing Waiters Show has a Jam-packed set list that includes:
Ain't no Mountain High Enough 
River Deep Mountain High 
Crazy In Love  
We Are Family 
Respect 
Proud Mary 
Say a little Prayer 
Bridge over Troubled Water
I'm every Women 
I will survive 

Check out this cool new unusual wedding act live at some recent events – The Diva Waiters in Ireland –>
So how does it work?
The Diva Singing Waiters really are an
unexpected wedding Entertainment act. They
arrive at the venue before your meal starts to set up the sound system and the soundcheck before any of the guests come into the room, as we want to keep this a secret until due time.
The Singing waiter will be dressed in the same attire as the hotel waiters staff at your venue so your guests believe they are 100% real.
The Diva singers pretend to be waiters or waitresses right after the starter is served, moving around your guests pouring wine, water, etc. They chat a bit amongst the guests, acting as a waiter, and are VERY friendly.
Finally, after the desserts are served and the room opens back up, the surprise is revealed and the Waiters perform their act. This is very high energy and they usually sing for 25 – 30 minutes before the Band or Party DJ.
How Much does it cost to book the Diva Waiters for my Wedding?
Usually, it starts at €950.00 -to – €1500.00 upwards…in the Leinster Area & they travel nationwide.
For the best Direct Prices  Deal direct with the Diva Waiters and let us help create that extra special Wow factor performance at your wedding.
Testimonials | Reviews:
Listen to what past clients say – It's all in their own words so you can get a feel on how well this Wedding Entertainment Idea works so well.
Hi Suzy, 
Wow Wow and Wow, the singing waiters were amazing. We had them at our wedding in September in Kilkenny and they were a real surprise and a shock factor for our guests, they were simply amazing and the crowd loved them. We had a truly brilliant day and they certainly know how to get a crowd going. Words can't describe how brilliant they were. There was laughter, tears, and standing ovations, absolutely wonderful.
Also thank you for organising it all and making it all happen you were so lovely to deal with and an absolute pleasure to work with.
Hi guys,

Thank you for all your help in arranging the Diva Singing Waiters for our Charity event on Friday they were just fantastic and its thanks to them that our fundraiser was such a success.

Their interaction with the diners was superb,  I reckon they learnt a thing or two about serving white wine cold!!  By the second song they had people dancing on chairs! There was such a 'feel good' factor in the room  and carried on through the night, we made great money for our charities –  everyone was feeling so generous! Please pass on our huge appreciation to Laura and the girls for making the night so special.
With every best wishes, 

Lydia Enso  

The Jack Kavanagh Foundation.
Hi Suzy  
Thank you so much for organising they were absolutely brilliant, I nearly had to wire my mothers' jaw shut.  
They went down a storm and they are such lovely people.  
Please tell them all how much we enjoyed their performance and will be recommending them to everyone who will listen!  



K & P
Hi Mark,  
They were BRILLIANT, No one knew about the surprise but I did let the best man in on the secret just before they started singing.  
Mount Druid is a super venue and they blended in very well with the staff beforehand. Much enjoyed by everyone.   
Thanking you  
Frances 
Hi Suzy,  
I hope all is good with you and you had a lovely weekend. Just a quick mail to say thanks a million for all your help with the Pfizer Christmas Party on Friday and also a huge thank you to all the acts and entertainment manager who put on a great show! All acts were enjoyed by everyone who attended – one was as good as the next and had people in good spirits from start to end! I will most definitely be using Audio Networks again – you really made this whole process so easy and we didn't need to worry about anything on the night or the run up to it. 
Thanks again,  
Hayley 
Hi Suzy,  
The opera singers went down very with all the guests. Their routine was timed perfectly and their song choice was warmly received.   
We had kept their appearance as a surprise for the bride and she was delighted with their appearance once she realised that Fergal was not an arrogant chef beratting the guests 
Regards  
Paul 
Hi Tania,  
They were BRILLIANT, No one knew about the surprise but I did let the best man in on the secret just before they started singing. Mount Druid is a super venue and they blended in very well with the staff beforehand. Much enjoyed by everyone.  
Kind regards  
Frances Forster