Sin A Deir Sí is an incredible Galway-based Energetic, Vibrant, and Exciting diverse group of Traditional Irish musicians collectively known as Sin A Deir Sí which is the Irish for " There she goes ".  This Celtic Party Band sing a unique blend of Celtic Irish instruments and individual roots steeped in a variety of musical genres giving Sin A Deir Sí their distinctive edge as one of Irelands news and freshest new talents.
Audiences will not be disappointed by this electrifying Modern and contemporary traditional Irish Live Music & Dance experience featuring a mix of Celtic music, song, and Irish dancing.
DANCERS + LIVE BAND SET UP;
CEREMONY MUSIC FOR WEDDINGS
We stormed the streets of Galway 8 years ago with our own fusion style of traditional music and Irish dancing visuals. Now we are proud to bring to you our show that includes the breathtaking 'Rince Beo' dancing trio to help us create an energetic "interactive" performance that will transform your event or wedding.
Not only have we a unique way of playing all your favorite Irish tunes but we have our own twist on different genres of music like Bluegrass, Folk, and Popular music all performed on Irish instruments.
We stand over this band 100%  they were personally handpicked due to their amazing high level of performance and they stand out in Ireland as one of the most talked-about traditional Irish musicians to book for events throughout the land be it in Ireland or Abroad for Music Festivals with a Celtic Connection. Book now to avoid disappointment!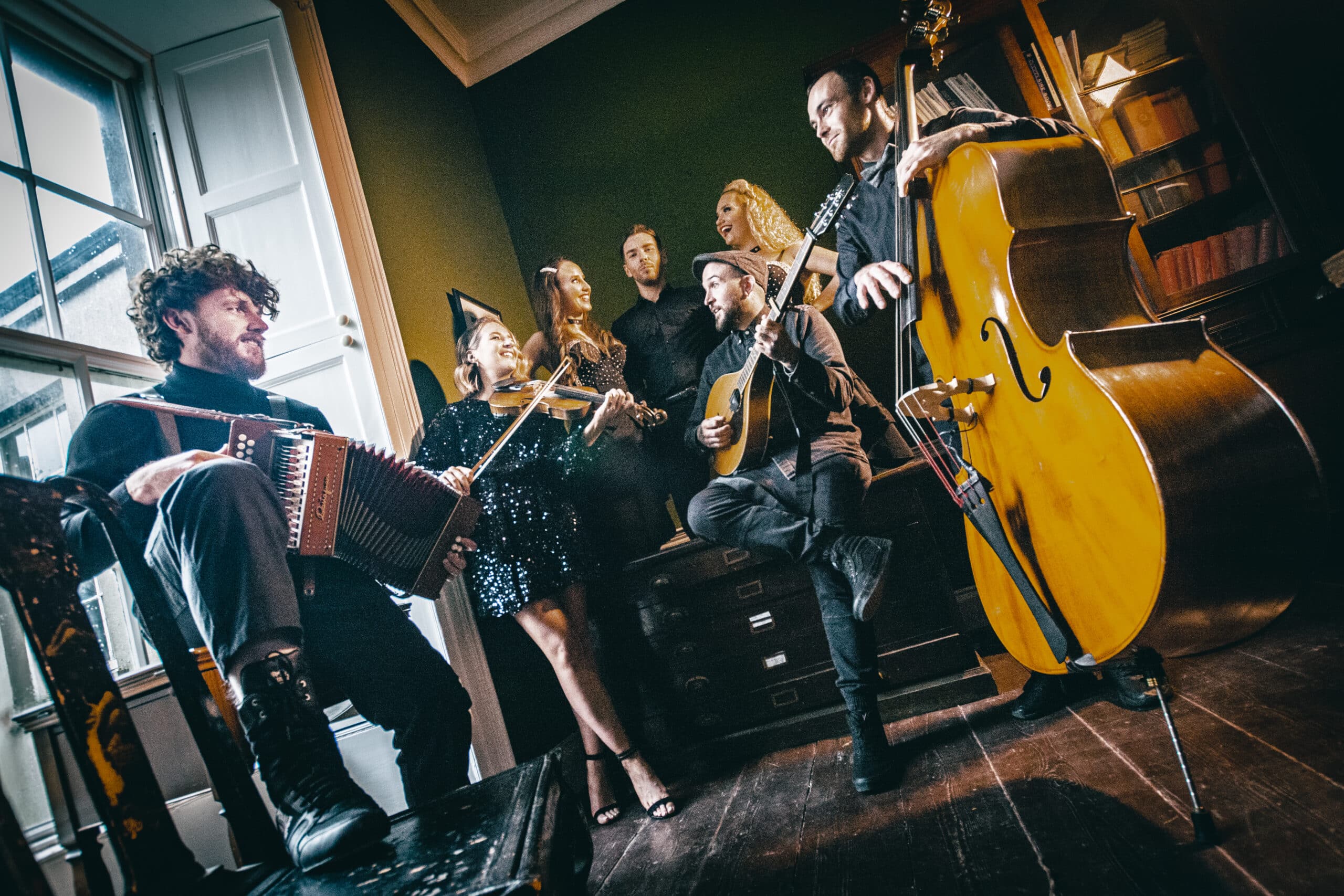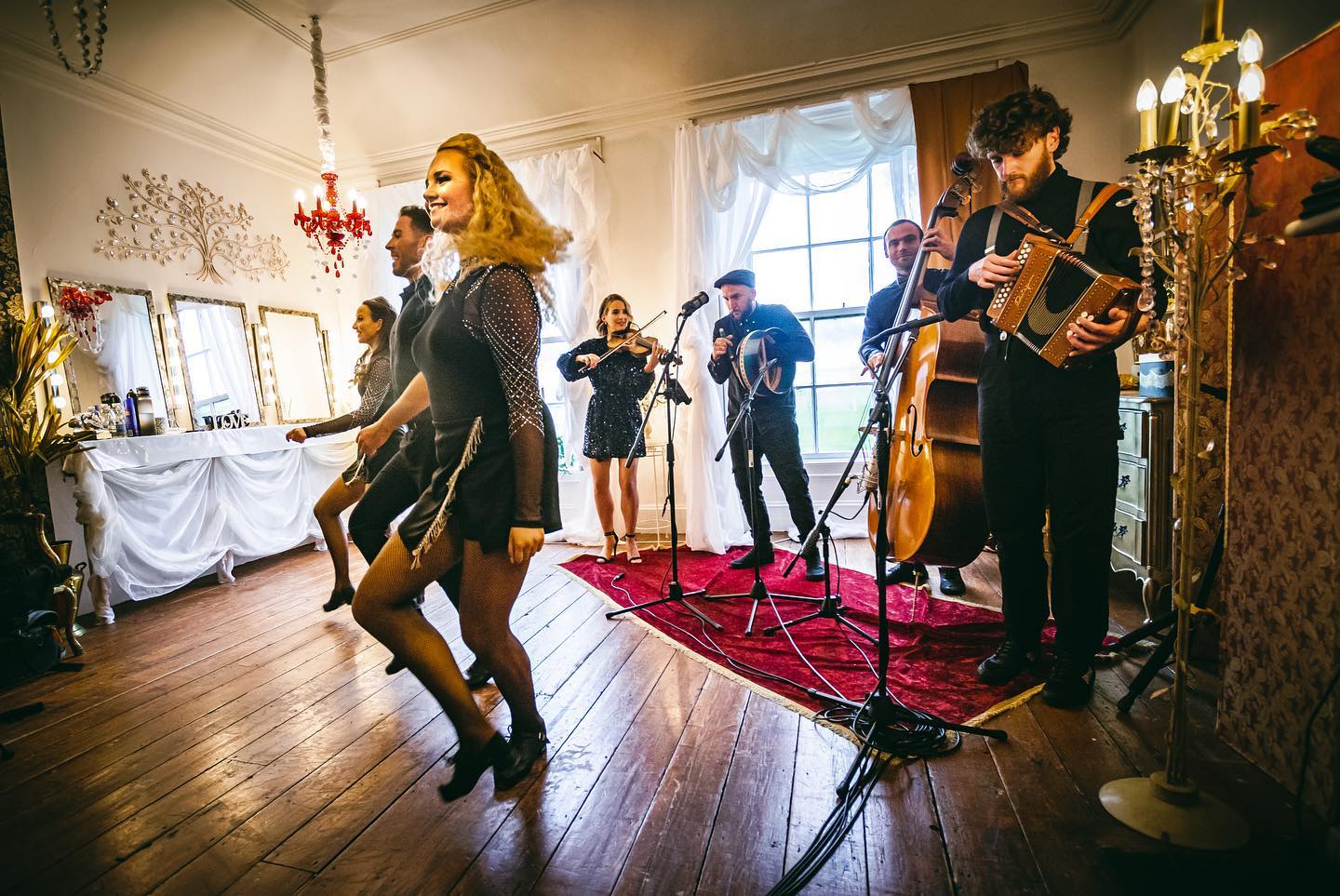 SETLIST –
Auld Triangle
As I Roved Out
All For Me Grog
And It Stoned Me
Bad Moon Rising
Babylon
Bees Wing
Belter
Brown Eyed Girl
Black Is The Colour
Black Velvet Band
Blame It On Me
Call Me Al
Caledonia
Candy
Champagne Supernova
Cleopatra
Constant Sorrow
Country Roads
Crazy Love
Creegan White Hare
Cripple Creek
Dancing In The Moonlight
Dakota
Dreadlock Holiday
Dirty Old Town
Drunken Sailor
Fans
Fairytale Of New York
Freed From Desire
Fields Of Athenry
Fishermans Blues
Foggy Dew
Folsom Prison
Galway Girl
Galway Shawl
Going Up The Country
Hand Me Down the Bible
Hard to Handle
Have You Ever Seen The Rain
Hey Joe
Highland Paddy
Hills of Donegal
Ho Hey
House Of The Rising Sun
I Saw Her Standing There
I Will Wait
I'll Fly Away
Into The Mystic
Irish Rover
Jackson
Jolene
Joyce Country Ceili Band
July
Kids
King Of The Road
Lakes of Pontchartrain
Lean On Me
Leaving Of Liverpool
Little Lion Man
Lisdoonvarna
McAlpine's Fusiliers
Murshin Durkin
Mustang Sally
Molly MaGuires
Mojo
Night Visit Song
Oh La La
Ordinary Man
Paddy's Green Shamrock Shore
Pay Me My Money Down
Pair Of Brown Eyes
Poor Paddy
Raggle Taggle
Raglan Road
Rainy Night In Soho
Ride On
Ring Of Ring
Rocket Man
Rolling In My Sweet Baby's ARms
Sally McLennane
Saints And Sinners
School Days Over
Sean South
Shipping Off To Boston
Shake It Off
Shes Electric
SOB
Some Say The Devil Is Dead
South Oz
Spancil Hill
Star Of The County Down
Still Haven't Found What I'm Looking For
Streams Of Whiskey
Summer Of 69
Take'em Away
Take Your Mama
Take It Easy
This Train
This Is The Life
Tipping It Up To Nancy
Tell Me Ma
Tell It To Me
These Are The Days
Travelling Soldier
The Cave
The Weight
The Ferryman
The Fox
The Mermaid
The Town I Love So Well
Use Somebody
Wagon Wheel
Walk Of Life
We're On The One Road
Waxies Dargle
Whiskey You're The Devil
Whole Of the Moon
Wild Rover
Wild World
You Never Can Tell
Yellow
500 Miles