Sin A Deir Sí is an incredible Galway-based Energetic, Vibrant, and Exciting diverse group of Traditional Irish musicians collectively known as Sin A Deir Sí which is the Irish for " There she goes ".  This Celtic Party Band sing a unique blend of Celtic Irish instruments and individual roots steeped in a variety of musical genres giving Sin A Deir Sí their distinctive edge as one of Irelands news and freshest new talents.
Audiences will not be disappointed by this electrifying Modern and contemporary traditional Irish Live Music & Dance experience featuring a mix of Celtic music, song, and Irish dancing.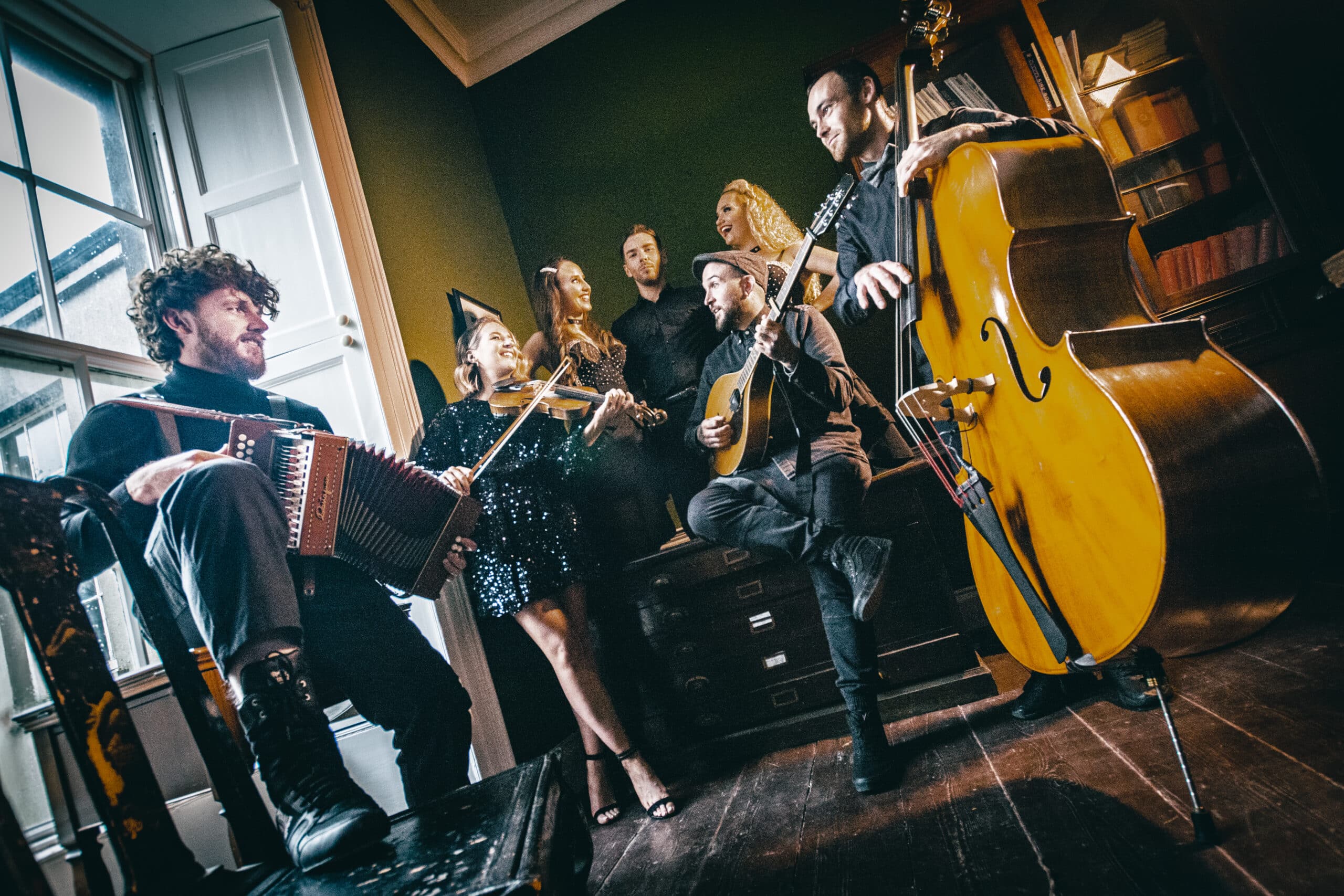 This superb toe-tapping Live experience is brought to you by Tara Dunne (Fiddle, Vocals), Aneta Dortová (Flute & Dancing), Liam Conway (Banjo, Vocals), Paul Egan (Bodhrán Irish Drum, Vocals), Paul Brohan (Guitar, Vocals) and Sam Wright (Bass).
We stand over this band 100%  they were personally handpicked due to their amazing high level of performance and they stand out in Ireland as one of the most talked-about traditional Irish musicians to book for events throughout the land be it in Ireland or Abroad for Music Festivals with a Celtic Connection. Book now to avoid disappointment!
+353 (0)1 201 3660 / [email protected]    …………..Scroll down below for videos ***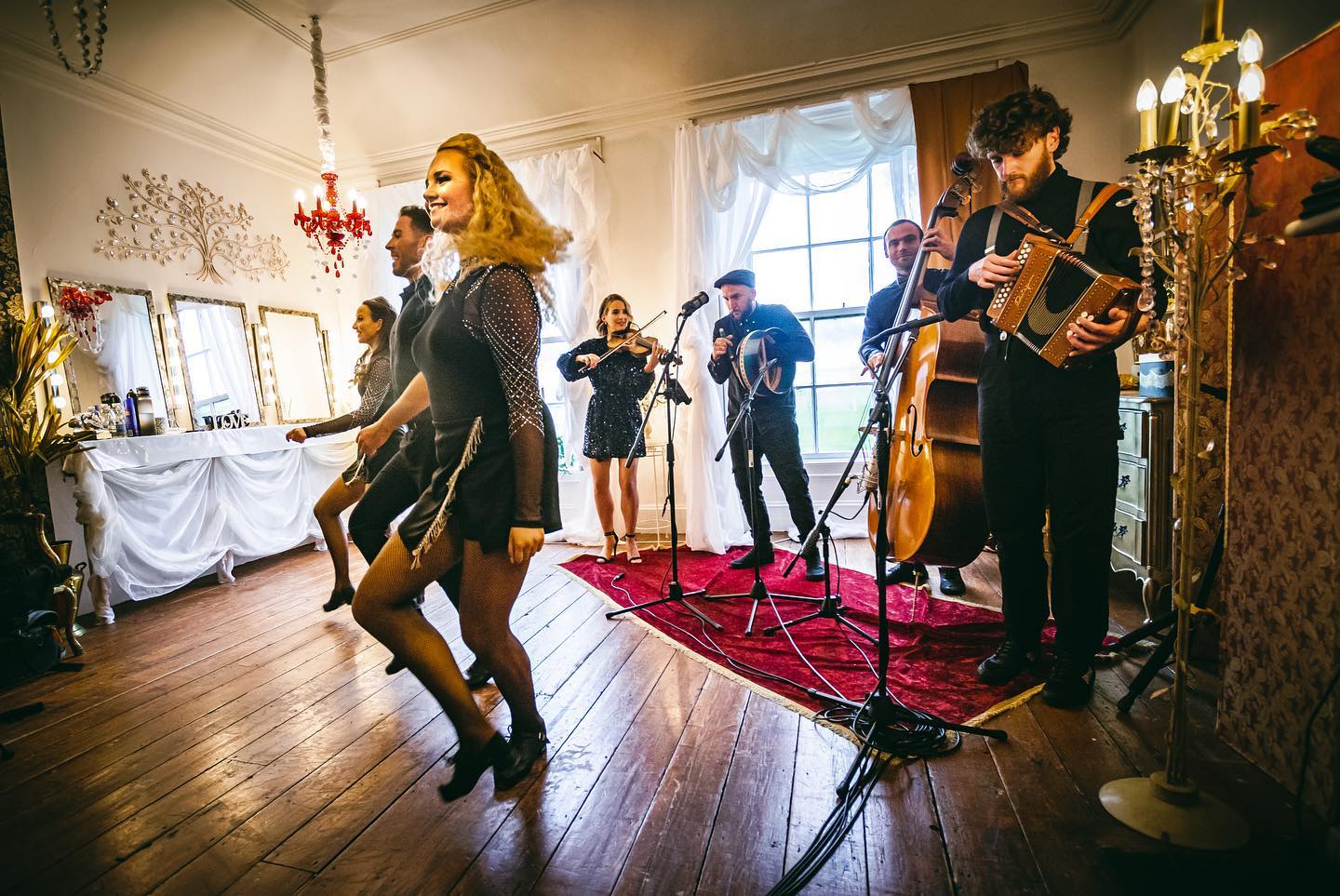 SETLIST –
Galway girl
• Rocky road to Dublin
• Streams of whiskey
• Whiskey in the jar
• Dirty old town
• Leaving of Liverpool
• Waxies Dargle
• Irish Rover
• Wild rover
• All for me Grog
• Oro se do bheatha abhaile
• Fishermans blues
• Tell me Ma
• Back home in Derry
• Whiskey your the devil
• Some say the devil is dead
• Pair of brown eyes
• Bees wing
• McAlpins
• Molly McGuire's
• Shipping off to Boston
• Spanish Lady
• Foggy Dew
• Dearg Doom
• Seven Drunken nights
• Hills of Donegal
• Hot ash felt
• Streets of New York
• Rattlin Bog
• Spancil Hill
• Galway Shawl
• Galway Races
• Streets of London
• Red cortina
• South Australia
• Auld Triangle
• Caoineadh na dtri muire
• Poc ar Buile
• Na Ceannabháin bána
• Bruach na Carraige bana
• Cailleach an airgid
• An Carraig Aonair
• Ordinary Man
• Paddy's green shamrock shore
• Lakes of Ponchartrain
• Go Lassie Go
• Black is the Colour
• Raggle taggle
• The night visit
• Moving on Song
• Parting glass
• Sweet sixteen
• Grace
• The Night Visit
• Raglan Road
• Green Fields of France
• Paddys walk to china
• Hurricane
• Folsom blues
• Get rhythm
• Ring of Fire
• Heart of Gold
• Bad Moon rising
• End of the Line
• Road again
• The night they drove ol dixie
• Going to my Hometown
• Constant Sorrow
• Cigarettes and Whiskey
• Rolling in My sweet Baby's arms
• Mary Don't you weep
• Walk on boy
• In the graveyard now
• Old Salty Dog Blues
• Columbus Stockade Blues
• Old no.7
• Dancing in the dark
• Bullfrog blues
• I'm on fire
• Pay me My money down
• Careless whisper
• Western plains
• Pretty woman/you got it
• Hit the road jack
• Piano Man
• Over the hill
• Hard days night
• Rocketman
• Mojo working
• Proud Mary
• Mrs Robinson
• Me and Julio
• Cecilia
• Crow Flies
• I got loaded
• Bad bad Leroy brown
• Before you accuse me
• Roadhouse blues
• Psycho killer
• Road to nowhere
• Blue suede shoes
• Hound dog
• This must be the place
• Twist and shout
• May you never
• Sunny
• Wonderful Life – Black
• Three little birds
• Could you be loved
• Is this love