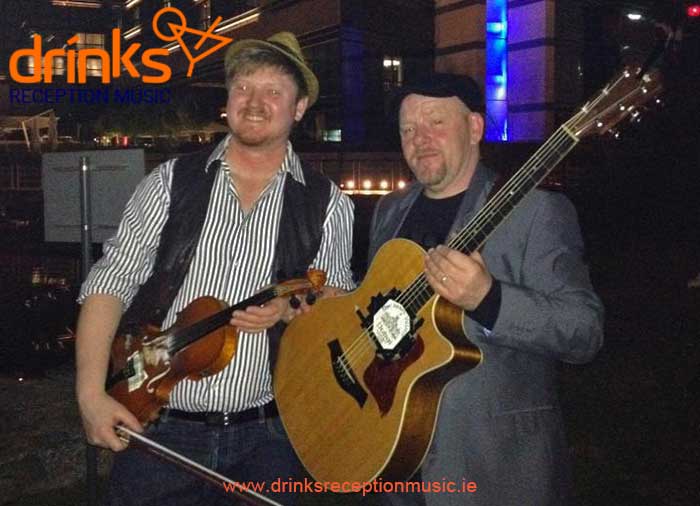 About Storehouse Duo
Storehouse is a two piece acoustic party group that have been entertaining audiences for over 2 decades consisting of Graham Mills ad Paul Mc Cormack. The Traditional Irish Duo first came together on the Canary Islands entertaining tourists with celtic music in well known bars like Charlies and The Rock Cafe in early 2000, and have since went on to do so around the world in various acts. The band are now based in Dublin and deliver a performance that would suit your every need from family gatherings to wedding entertainment and christmas corporate events. Their wide range in song choice covers 60s to modern day hits and everything in between to make your drinks reception or party a success to be remembered for many years to come.
They are an exciting and energetic team not to be missed...One of the best bands in Ireland!
1: Boys of summer - DON HENLEY
2: Fisherman blues - THE WATERBOYS
3: Dakota - STEREOPHONICS
4: Brown eyed girl - VAN MORRISON
5: Budapest - GEORGE EZRA
6: Dirty old town - THE POGUES
7: Folsom prison blues - JOHNNY CASH
8: N17 - SAW DOCTORS
9: Dock of the bay - OTIS REDDING
10: Fields of athenry - DROPKICK MURPHYS
11: Galway girl - STEVE EARLE LYRICS
12: Hills of donigall - GOATS DON'T SHAVE
13: Hotel california - EAGLES
14: Little lion man - Mumford and sons
15: Long Train Runnin' - DOOBIE BROTHERS
16: Mr brightside - THE KILLERS
17: Whats Up
18: Pride In The Name Of Love
19: I Useta Love Her - SAW DOCTORS
20: Mrs Robinson - SIMON & GARFUNKEL
21: Old time Rock and Roll - BOB SEGER
22: One - U2
23: Past The Point Of Rescue - HAL KETCHUM
24: Shut up and dance - WALK THE MOON
25: Stuck In The Middle With You - STEALERS WHEEL
26: Summer of 69 - BRYAN ADAMS
27: Sweet home alabama - LYNYRD SKYNYRD
28: Take it easy - EAGLES
29: Tenessee whiskey - CHRIS STAPLETON
30: The one - KODALINE
31: The Town I Loved So Well - PHIL COULTER
32: Valerie - AMY WINEHOUSE
33: Wagon Wheel - OLD CROW MEDICINE SHOW
34: wake me up - AVICII
35: Waterboys – The Whole Of The Moon
36: Whisky In The Jar - DUBLINERS
37: Wish you were here - PINK FLOYD
38: Wild world - CAT STEVENS
39: Creedence Clearwater Revival – Bad Moon Rising
40: Human
41: Imagine Acoustic
42: I Will Wait
43: I'll Tell Me Ma - DUBLINERS
44: Mr Brightside Chords - THE KILLERS
45: Perfect chords
46: Piano Man chords
47: star of the county down - THE POGUES
48: Trump the langer
49: Zombie
50: Dancing In The Moonlight
51: Take My Hand