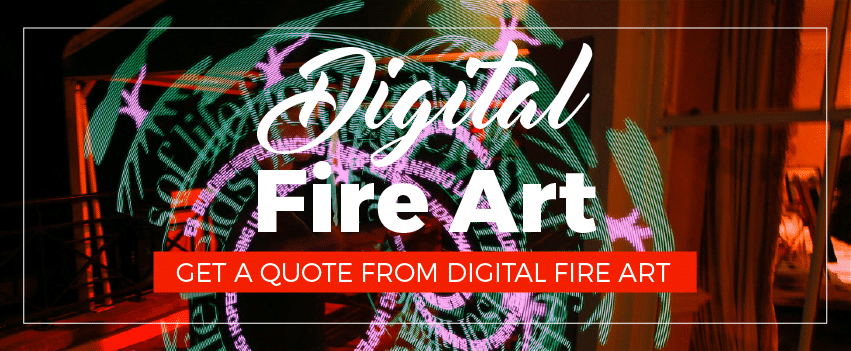 Digital Fire Performers
For your Wedding Entertainment, we at Irish Wedding Bands are dependent upon bringing truly Unique and Memorable Entertainment Acts to our clients across Ireland. We understand it's important to plan a One-Of-A-Kind Event and to amaze your wedding guests with a never seen before artist – explore new Party Acts, Alternative Performers, and also styles.
With Digital Fire Art you have no worries about high insurance costs and getting burnt by a naked flame, as the concept of this innovative art is battery-powered with custom LED lights, meaning you are able to incorporate the bride's and groom's name in the performance, which undoubtedly would make an impact on the transfixed crowd and allows for the happy couple to shine bright.
Digital Fire Art by Audionetworks is Ireland's only digital fire show, thrilling your audiences and can be hired as a captivating and unforgettable wedding experience providing a high energy, pyrotechnic, striking spectacle that will leave your guests AMAZED.
Poi is a Maori word meaning "ball on a string." Maoris warriors originally used poi as a form of exercise to train for battle or hunting. By swinging the heavy balls they developed wrist strength and flexibility to handle various weapons and tools. Eventually, poi was used as a form of storytelling and dance. Today it has taken on various different and unique faces of performing arts, with one of the most popular being Fire Poi and Irish Corporate Entertainment is proud to present the digital art form of a striking tradition.