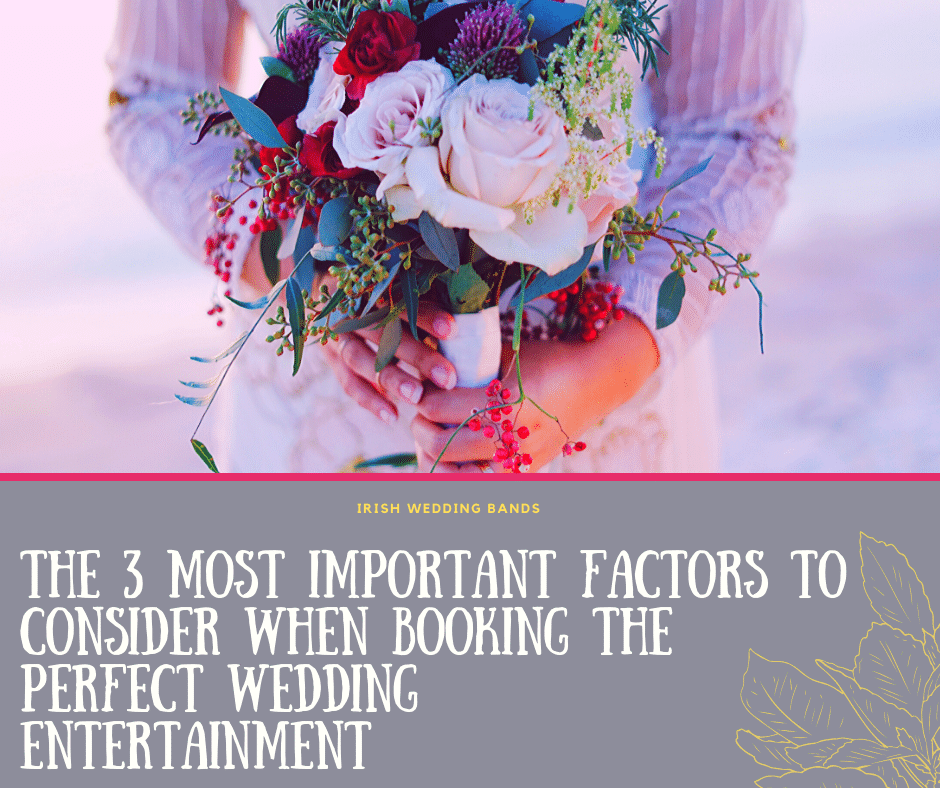 If you're stuck at home on quarantine right now, as an awful lot of people around the world are, you are probably at your wit's end - looking for productive ways to spend your time. So why not start a little research on potential wedding bands.
We here at Audionetworks have seen a huge surge in brides and grooms having to reschedule their wedding dates because of the COVID 19 restrictions, which means only 1 thing - 2021 and 2022 is going to be huge record years for
Irish Wedding Bands
!
Like everyone, we are very excited about a jam-packed year of love and celebration across the country, and we can't wait to get the ball rolling. Whether you're a first-time booker, or your rescheduling your date and looking for new wedding entertainment, these tips will make booking your musical entertainment enjoyable, fun, and easier than you might have thought.
Don't forget, we have expert booking team is on hand to help you with any questions or requests you may have.
Think of the atmosphere you want to create.
This might seem like a really obvious one, but it happens time and time again where a couple will book a band without considering how to will fit into the theme or feel of their day. Picking the perfect wedding band takes more than a quick glance at their setlist. Make sure to check out as many of the band's videos as you can, to really get a sense of the energy they could bring to your wedding party. If you're looking to create a sophisticated and classy kind of atmosphere, you need to try and match your music with this. For example, a sophisticated jazz band could really work well here. Or if you're aiming for a more energetic and lively vibe, maybe an energetic pop band would fit the bill.
Budget.
We know you're probably sick of hearing this word through your wedding planning process! As important as your wedding entertainment budget may be, it is not the be-all and end-all. Once you have allocated the budget for your band and Dj and music, it's much easier to narrow down your choice. And as we have so many different party bands in so many different price brackets, it won't be hard to find the perfect one for you. An awful lot of our bands can downsize (and upsize) to suit nearly any wedding budget, so just because a band doesn't initially fit within your budget, there is no harm in asking your booker what the options are with your favorite band.
Size of the band vs venue.
If you're having a big wedding bash with an equally big guest list, then it's worth thinking about whether a small band will work for a such a big crowd. This is where videos come into effect big time. Have a look at a bands videos. Are they working well on the front of a big crowd of wedding guests? Are they keeping the energy up on the dance floor for so many people? An equally, if you're having a more toned down wedding party, then maybe a big band might be a little overpowering. We also cater for smaller wedding entertainment packages. It's important to gauge the numbers and the size of your venue vs the size of your band. Don' forget, our team are absolute pros at this, and can help you pick the perfect sized band for your wedding entertainment hire so you get it right the first time.