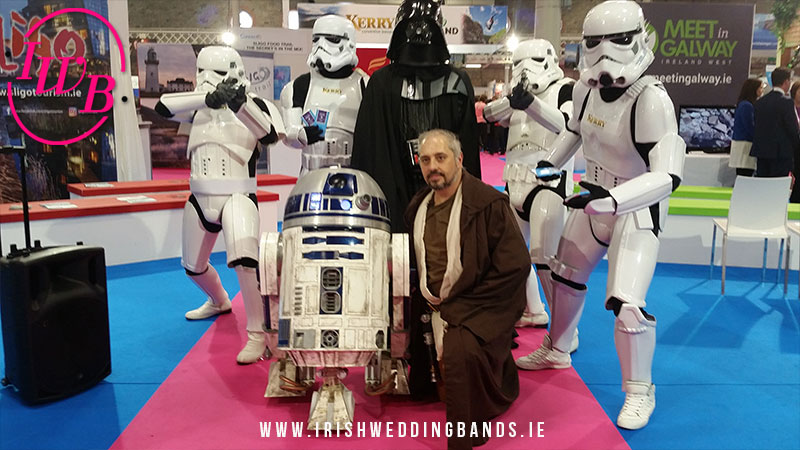 Amazing ideas to surprise your Groom!
No matter what way you choose to plan it, your wedding will be nothing short of extraordinary. However, if you're looking to break away from the regular and really put your own stamp on your wedding entertainment, you'll want to have a few surprises & tricks up your sleeve. And who is more deserving of a special wedding day surprise than your husband to be! After all, isn't your wedding day meant to be a celebration of the person with whom you'll spend the rest of your life? So, with him in mind, here's our top 5 ideas to really surprise your fiancé at your wedding.
If you have any questions or queries about any of our acts mentioned above please don't hesitate to get in touch for some friendly and professional advice!
1. Stormtroopers Greeting hosts
What could say "I Love You" more than a couple of Storm Troopers to welcome you and your husband to your drinks reception or church ceremony? Think I sound a bit mad? Just hear me out..
This type of wedding entertainment is a proven crowd pleaser, and if your fiancé is even the tiniest Star Wars fan, not only will the appearance of full sized Storm Troopers and even Darth Vader blow his mind, but they will also have people speaking about your unique and quirky wedding "guests" for years to come! To book or for more info, click here!
2. Pop up Brass Bands
Okay, so I'm probably not meant to be bias here, but this is a personal favorite of mine! There is something incredibly romantic about a pop up or a roaming brass band, without being too over the top. So if you want to surprise your significant other, without breaking out the cheesy love songs, then this is definitely the way to go! Jazz has always been known as the funky and charming alternative to traditional loved-up ballads. Think of Keira Knightleys wedding in Love Actually – now imagine surprising your fiancée with something similar!
The best part about these super skilled bands – their ability to perform almost anywhere! 
3. Surprise singing waiters
Who doesn't love a little unexpected performance? There are many different types of singing waiters, from opera to diva style, you'll definitely find one that's suited to your special day.
These highly skilled performers are not only experts in their field, but alos incredibly talented vocalists and performers. Check them out here!
There are many superb twists to it and part of the appeal of the show is the "surprise" factor – so we try not to spoil it for you. However, Singing Waiter performances generally start with the musicians working incognito as regular table waiting staff.
After a short while, a scripted incident takes place and the waiters reveal themselves and start singing. You can pick one of the many setlists available or even suggest your own, ensuring that your wedding entertainment is tailored to your personality and individual style. Have a look at their colorful gallery here.
All you have to do is sit back and watch the madness unfold..This is one surprise your newly-wed won't see coming!
4. Digital Fire Art Performers
Do you and your husband-to-be share a love of all things tech savvy and futuristic? Our Digital Fire Art performers deliver a truly amazing visual lights show which makes a brilliant surprise for any wedding reception. What really stands out about this unique style of entertainment is how easily you can personalize it for yourself and your fiancé. Whether it's a colourful fire display or simply a surprise message to your partner, the performers always leave their audience in awe!
Check them out on Facebook.
5. Silent Headphone disco
Is your groom the kind of man who is always up for a good party, and hates to see the night coming to a close too early? Well then he will love a silent headphone disco..and so will you! 
Imagine being able to bop and boogy into the wee hours without the worry of a noise curfew in your venue..pretty appealing right? allows you to keep the party going as only those wearing the headphones can hear the music.
It's also a great way to appeal to a wider range of musical taste as our transmitters host 2 channels simultaneously! 
Check out the latest events on Facebook.